Day 1 (Base marina - Milna)
Introduction to the skipper, boat and safety regulations on board. Sailing from the base marina to Milna on the island of Brač and opening your first bottle of wine on board. Milna is a quiet and nice little fisherman place that you are going to love.
Sailing from Milan to Komiža. On the way to Komiža you are learning the basics of sailing and enjoin the beautiful nature and Croatian blue sea. Discovering blue and green caves with some incredible bays.
From Komiža to Vis. Place on the same island as Komiža with the perfect combination of beautiful beaches. Nice place to go scuba diving and exploring. Quiet and outstanding little streets and the party's in fort George and local bars.
Sailing to the Vela Luka on the island of Korčula. Chill day with a lot of activities on board and around it. Visiting the small little island of Proizd near the town of Vela Luka. Using your SUPs and snorkeling.
Day 5 (Vela Luka - Korčula)
From Vela Luka to Korčula. Korčula has a huge wine history since the Greeks came on that island 2300 years ago. Admire the architecture of Korčula and visit the house of Marco Polo.
Set your sails up and go to Hvar. Always crowdy and full of life but place that you can't skip. Fancy place on the island of Hvar with more than 300 sunny days per year. Great party places and restaurants where you can enjoy very good seafood.
Day 7 (Hvar – Base marina)
Easily going to your base marina but on the way stop to beautiful bays, looking for recommendations from your skipper to visit some places on the coastal part that you didn't visit before. Arriving at the marina in the afternoon.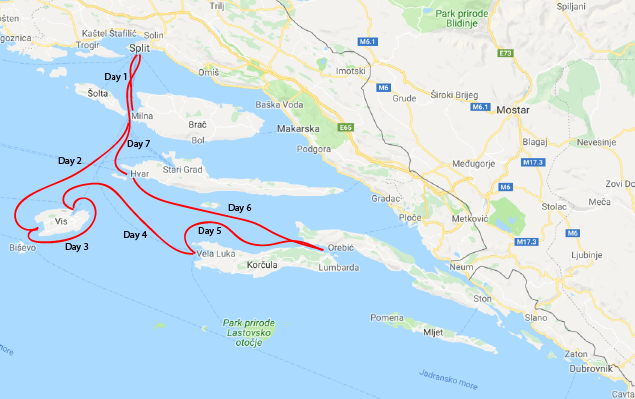 This is only an optional route and it can be easily adjusted depending on your wishes, starting point and weather conditions. Your skipper will always have the best advice at the moment.