Day 1 (Base marina - Supetar)
Introduction to the skipper, boat and safety regulations on board. Sailing to Supetar on the island of Brač. Learning the basics of sailing with your skipper and making your first cocktail on the boat.
Sailing to Bol. In this place, you have so many activities like scuba, windsurfing, kite surfing, hiking, biking, renting quads or just relaxing on the beautiful and one of the most popular beaches in Croatia (Zlatni rat). Food is outstanding and local wineries are one of the oldest ones in Croatia.
While you are going to Lovište on Pelješac you have so many bays with beautiful nature on the way. Stop in one of them, do a SUP race with your friends or family, snorkel and see that this Adriatic is full of life.
Setting your sails up from there and going to Vis. Beautiful place on the even more beautiful island with a lot of history, nice vineyards and amazing view from the top of the island. Nice place for scuba diving and land exploring that you just can't skip.
Starigrad on the island of Hvar is a historical place that you are going to love, especially if you like small old towns with so much charm. On your way there you have some really nice places to drop your anchor and jump in in the sea that clear that you can see up to 15m deep.
Day 6 (Starigrad - Šešula)
Sailing to the Šešula (a small bay on the island of Šolta) on the next day and now when the end of the week is coming you are sailing like a pro. There you have dinner at the nice little restaurant with a beautiful view.
Day 7 (Šešula – Base marina)
Easily going to your base marina but on the way stop to beautiful bays, looking for recommendations from your skipper to visit some places on the costal part that you didn't visit before. Arriving at the marina in the afternoon.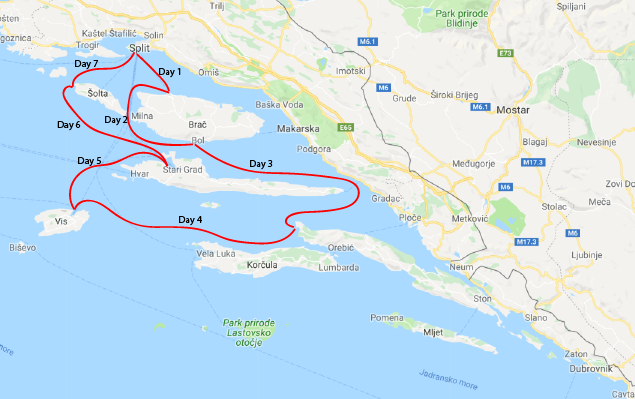 This is only an optional route and it can be easily adjusted depending on your wishes, starting point and weather conditions. Your skipper will always have the best advice at the moment.